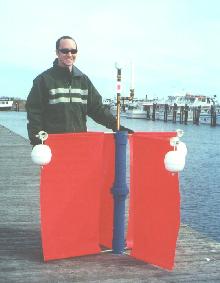 Model 115 drifter
Davis/CODE surface rigged
click on image to enlarge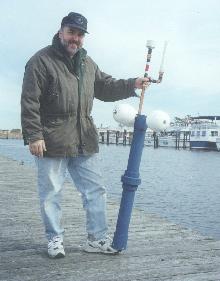 Model 115 drifter
rigged for deep drogue
click on image to enlarge


Overview 
The Model 115 Autonomous GPS Drifter is a current following (Lagrangian) drifting buoy. It is released in a body of water and moves with the currents over a period of days to months. As the drifter moves, onboard electronics acquire a time series of positions using GPS plus optional sensor data. This data is sent to the end user via the worldwide Argos satellite network.
The Model 115 is a lower cost adaptation of the Model 104 GPS/Argos drifter that provides functionality adequate for many applications while remaining compatible with software, deployment logistics, data format, and drifter characteristics of its more advanced sibling. Additionally, the Model 115 is optimized for simple deployment, allowing drifter launches from ships of opportunity by minimally-trained personnel.
Precision Lagrangian current data provided by the Model 115 is useful in current measurement, larval fish studies, oil spill or floating debris tracking, discharge dispersement calculations, and similar studies.
Physical characteristics
Physical drifter design is similar to the Coastal Ocean Dynamics Experiment (CODE) drifter developed at the Scripps Institute of Oceanography. This design (also known as a Davis or SCULP drifter) provides excellent coupling to the surface layer and exhibits little wave rectification. An optional conversion kit allows the drifter to be changed in the field to a deep drogued configuration. The drifters are small and light (14 kg / 30 pounds) and are easily hand-deployed and retrieved by one person.
GPS
The Model 115 features a 12 channel GPS receiver that records position to 0.01 minute of latitude and longitude (18 meters).
Optional Sensors
Temperature: -10 to +40C, resolution 0.01C. Stock accuracy is better than +/-0.5C. Typical postprocessed accuracy with optional individual calibration 0.05C.
Conductivity / temperature: -10 to +40C, resolution 0.01C. 0-60 mmho/cm, resolution 0.01 mmho/cm. Full digital sensor with individual calibration yields typical postprocessed accuracy of 0.05C and 0.05 mmho/cm.