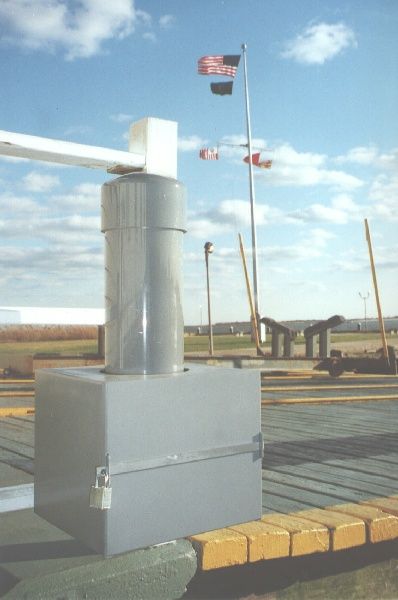 116 telemetry station with lockable security enclosure option
click on image to enlarge
An advanced, highly adaptable telemetry unit designed for incorporation into real time environmental data systems. The telemetry station can be interfaced to nearly any type of hydrographic equipment, including:
Tide gauges,
Wave gauges,
Current meters,
Salinity and temperature sensors,
Weather sensors.
A powerful microprocessor controller harvests data from attached instruments and keeps a backup copy of data in a static RAM ring buffer or optionally in nonvolitaile flash EEPROM storage. The Model 116 constantly checks and corrects its real-time clock over the telemetry link. As data is harvested it is timestamped, providing instant correction of clock drift in the hydrographic sensors.
The Model 116 can communicate using multiple telemetry methods, including:
VHF or UHF packet radio,
3G and 4G wireless internet,
Argos or Iridium satellite telemetry.
In addition to harvesting and telemetering data, the Model 116 constantly monitors attached sensors and can send trouble messages that can be distributed by email or pager. Additional sokftware features allow remote administration and reprogramming of attached instruments.
The Model 116 can be powered by regulated or unregulated shore or solar power, and can regulate and pass through this power to attached hydrographic equipment. The station carries internal backup alkaline batteries that can provide days to weeks of operation in case of input power failure.
The Model 116 can be buoy, shore, or ship mounted. A padlockable security pole mount is available that provides tamper resistance to the case closure and external cabling.
For more information on this product, contact Brightwaters.