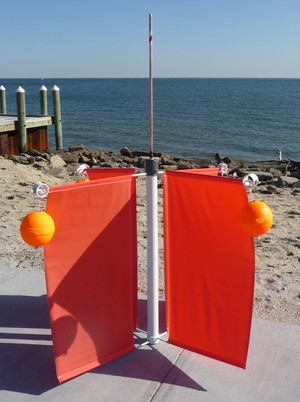 Model 123 uninstrumented drifter,
David/CODE surface rigged
click on image to enlarge
Overview
The Model 123 is an uninstrumented Lagrangian (drifting) buoy that is located and tracked visually using a retroreflective-coated witness staff. It is intended to be monitored and tracked by personnel in small boats using handheld GPS, and is recommended for use when budgets are minimal or for areas where the risk of pilferage or shipstrike is high.
Lagrangian flow data provided by the Model 123 is useful in current measurement, larval fish studies, oil spill or floating debris tracking, discharge dispersement calculations, and similar work.
Physical
The default configuration of the Model 123 is a standard CODE surface drifter designed to track the top 1 meter of surface currents. This design (also known as a Davis or SCULP drifter) provides excellent coupling to the surface layer and exhibits little wave rectification.
The Model 123 uses the same rods, sails, and floats as Brightwaters Argos and GPS drifter products, allowing intercomparison of results with CODE data obtained from these and other platforms. The drifters are small and light (4 kg / 9 pounds) and are easily hand-deployed and retrieved by one person.
The drifter can be field converted to use a deep cross drogue (1 meter wide x 2 meters deep) that provides a drag ratio of approximately 15:1 when tethered at 3 meters. Other drogue types are available.
Specifications
Construction

Case: PVC plastic.
Sail rods: Extruded fiberglass.
Sails: Coated nylon.
Hardware: Stainless steel.

Dimensions

Assembled height approximately 70 inches (178 cm).
Surface rigged maximum width 55 inches (140 cm).
Witness staff protrudes 28 inches (71 cm) above water when
deployed.

Visibility/identification

Floats and sails high visibility blaze orange.
Drifters distinguished with individual retroreflective tape coding on
witness staff.

Shipping weight

Approximately 9 pounds (4.1 Kg) per drifter.